Full Mouth Reconstruction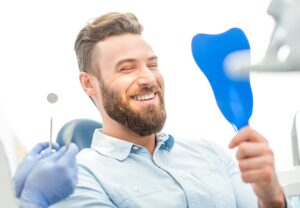 A full mouth reconstruction is a comprehensive and customizable treatment that is designed to restore the function and appearance of your entire mouth. During a consultation, your dentist will go over your unique needs, cosmetic goals, and budgetary concerns in order to develop a treatment plan that is optimally suited to you. The beginning stages of your full mouth reconstruction will typically focus on your oral health. Any decay, damage, or disease will need to be treated in order to ensure a strong, healthy foundation for your restorations. From there, a number of procedures will likely be involved in the complete reconstruction of your smile. Common restorative treatments include: dental implants, crowns, bridges, porcelain veneers, cosmetic bonding, gum grafting, and full or partial dentures. New or replacement fillings can also be incorporated into your smile makeover to address either significant decay or aesthetic concerns posed by previous dental work.
Implant Dentures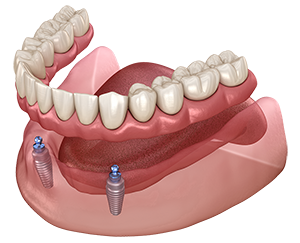 Implant dentures can provide patients who are missing most or all of the teeth on their upper and/or lower arch with a functional, beautiful new smile in as little as one day. This full-arch replacement option utilizes strategically placed dental implants to anchor a fixed denture appliance in the mouth for a comfortable, durable, natural-looking fit. Unlike traditional removable dentures, implant-supported dentures are securely affixed within the mouth. This reduces the potential for slipping and chafing along the gumline, eliminates the need for messy adhesive pastes, and provides you with teeth that look and feel more like your natural ones.
Here at Delaware Smile Center, we strive to make the implant dentures process as efficient and rewarding as possible. We can often extract any remaining natural teeth, place your new implants, and affix a temporary overdenture all in the same visit! Essentially, this process enables us to give you a brand new set of teeth in a single visit, while also ensuring that you never have to go without teeth while your permanent denture is being fabricated.